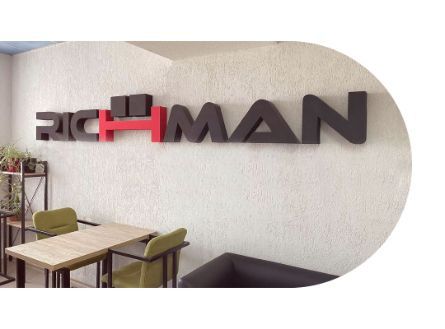 RICHMAN Furniture Factory has been operating since 2014, specializing in crafting exquisite pieces such as office chairs and sofas, luxurious platform beds, café/bar/restaurant chairs and sofas, and a wide variety of other furniture. With over 1,500 square meters of production facilities and more than 3,000 square meters of warehouse space, the company efficiently caters to its extensive network of partners across the European Union, including Lithuania, Latvia, Estonia, Romania, Bulgaria and Ukraine. Each month, RICHMAN delivers its products to over 500 satisfied clients in these countries, ensuring exceptional quality and timely shipments.

2014: The RICHMAN factory was established by a seasoned team of furniture industry experts. Since then, we have tirelessly expanded our product line and elevated service standards for our valued partners.

2016: Our extensive clientele network comprises over 250 companies, a testament to the trust they place in our brand.

2018: We embarked on a successful journey of exporting our exceptional products.

2020: We proudly serve a growing circle of over 500 partners across six countries, fostering strong relationships and mutual success.

2021: RICHMAN Furniture Factory enters the US market and participates in the prestigious HPMKT exhibition, showcasing our craftsmanship to a discerning audience.

2023: We continue to thrive and make strides in the industry, as RICHMAN Furniture Factory participates in the renowned Las Vegas Market exhibition, connecting with key players and sharing our latest innovations.

We are Participated! It's done!
The RICHMAN Furniture Factory took part in the largest furniture exhibition in the USA - High Point Market.

To describe everything that happened these days is a very difficult task. After all, this is not just an exhibition. This is more than half of the city, which is not very small, by the way, and in every building there are salons, stands, representative offices. There was an impression that the whole world is represented here.

And it's not easy to find "your" clients here.The first pancake didn't turn out to be lumpy.There were many meetings. Now we will work on converting these negotiations into successful deals and long-term contracts.